Half and Half? Half cream and half milk I was taught. And what is "cream"? Whole milk in which the batterfat was allowed to rise to the top. Ah yes, thick creamy substance.
But SO VERY RICH that we had to "cut" it with milk, to make a liquid for lightening our coffee. What was left when the Half and Half was siphoned off? SKIMMED MILK. Yeech.
Now what do we have here? "Fat Free Half and Half"?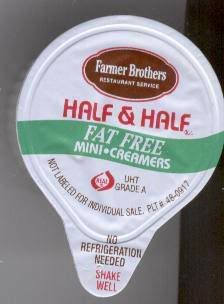 A contradiction in terms. If it is "fat free" it can't be cream, and if it can't be cream it can't be "half and half".
If "no refrigeration" is needed, it can't even be a dairy product. And if you have to shake it, it isn't even all liquid.
I ask you: What IS IT?
It is a grade A patented product that is not for individual sale, so if you want one in your coffee put your nickle away...you can't buy just one.