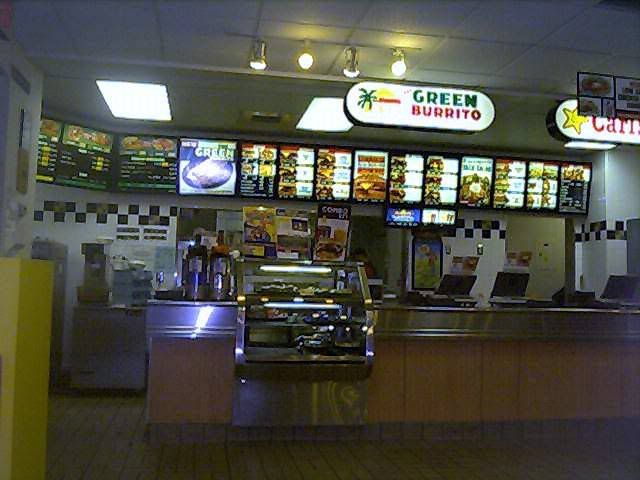 Carls' Jr.and Green Burrito at six am.
I was the only customer in the restaurant. I ordered coffee and a Breakfast Burrito.
"What are we doing up so early," I asked the server. It was a rhetorical question, meant as social greeting, not a search for information, but she answered anyway.
"Working at a job I don't like to pay off a vehicle I just bought." It was too early to lie gracefully, so the answer was blunt and amusing.
Later I asked, "What would you rather be doing?"
Long pause, "Ahh, real estate." No more six AM shifts, no doubt.
The Breakfast Burrito was scrambled eggs and bacon wrapped in a tortilla, with a plastic packet of salsa on the side. It was all right. It was hot. The highly touted Channel Islands Roasting Co. coffee was so-so. It was hot.
On the way out I passed the server again, and asked, "What vehicle did you buy?" She pointed to a maroon Ford wagon.and told me the story. She had a station wagon to tow her tent trailer. At an intersection she had a collision and totalled the front end. The front end had been replaced but then every time she went through a puddle, the steering LOCKED UP. So she replaced it with the Ford wagon. It appeared to be a ninety-something, and she said, "I will be paying for it for ages."
Next time I go for breakfast there I will find out where she goes camping with her tent trailer. Beach? Yosemite? Sequoia? But it may be a while because I prefer bagels at the Bagel Store to burritos at the Green Burrito.