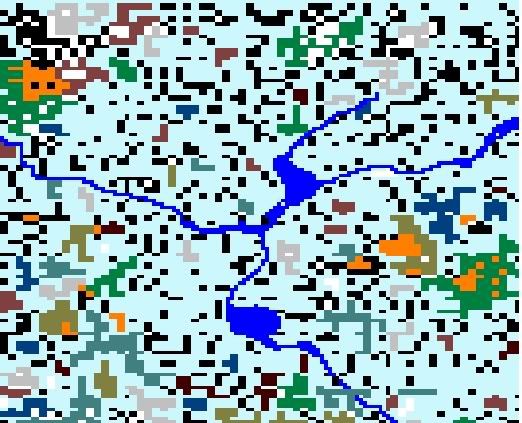 I created an abstract drawing in Paint program, and then stared at it for an hour. For some reason it made me think of Kansas City, so I called it Cityscape.
I can imagine Kansas City, with Kansas to the left and Missouri to the right. The state line runs right through town. You might live in Kansas and your next door neighbor live in Missouri. The blue lines must be rivers. If this were Kansas City they would be the Kansas and the Missouri. They run right through town too.
But it is not Kansas City, it is an abstract, made with a jillion random dots. If in this "city" the orange splotches were schools and the green splotches were parks, you would applaud the planning commssion for scattering them about town near the houses and apartments, black dots. Whatever the brown, grey, and umber dotes are, they look like they belong.
All in all, I think I have too much time on my hands, and not enough real stuff to do.
*A line from a poem that I will look up after I post this.
Your search for ""My mind to me a kingsom is"" returned no results.
Second try: Sir Edward Dyer http://eir.library.utoronto.ca/rpo/display/poem771.html