In the early years of the United States, they added a star AND a stripe to the flag for each new state.
What would the flag look like if they had continued that practice up to the present?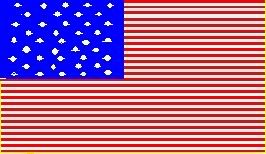 (PS:. ooops... my flag has 51 stripes and 46 stars. However, I'll bet you don't know, without looking, how many rows of how many stars there actually are.
The answer is five rows of six and four rows of five, to make fifty. Drag your cursor over the blanks to see the answer.)