Maybe this is cheating on the scavenger hunt: a photograph of a painting on my wall.
The painting was made for a hometown exhibit at the civic center in Merced, California, by my daughter, Kate Jackson. It represents a couple of antique postcards from the early days of our city. The Hotel Tioga pictured in the card is an early landmark.
The center of town has moved away from the Hotel toward shopping malls and busier streets, but the old building still stands on its Palm lined side street location, reminding us that cities grow old and mellow like fine wine.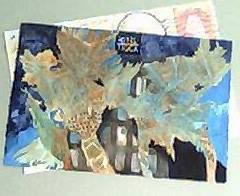 Postcards from the Gateway
Watercolor by Kate Jackson