I have been preparing a big, long metaphore comparing seasonal changes with Mother Nature conducting a symphony, calling in each plant variety for crescendo at a precise moment. But it seem simpler to simply state that I am amazed how all the almond trees blossom at one time. While I was in the hospital for four days, all the almond trees decided to bloom AT THE SAME TIME.
Merced is the heart of the almond growing area for the nation. If you ate a Hershey Bar with Almonds today, you tasted a portion of Merced area, for we grew that almond. And this week millions of trees decided to bloom. They created great fields covered with white covered trees. Talk about your Cherry Blossom Festival in Washington, D.C. We lack only the festival, we have the flowers, in abundance, everywhere, orchards, streets, and back yards.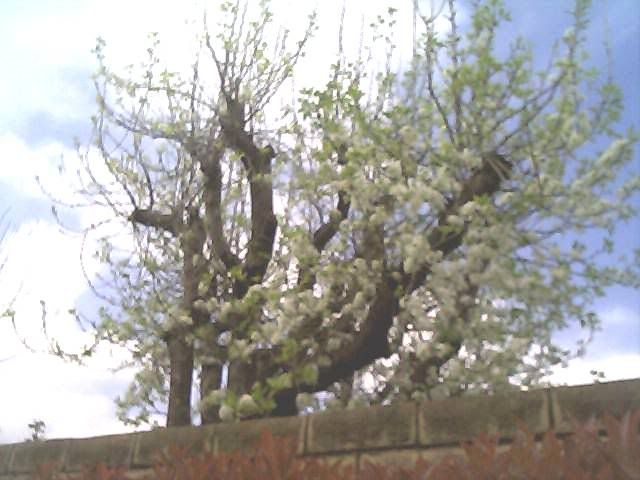 Almond tree in the back yard of the old folks home
It is gorgeous, but, oh, did I forget to mention that almond blossoms are loaded with allergins? Almond pollen fills the air with invisible misery for every soul with an allergy. Red eyes swollen shut and runny noses are pandemic. Kids try to do school work they cannot see. Store keepers try to sell merchandise while wiping their runny noses. Businessmen cough and wheeze. And everyone is miserable for a month. There is no escape, if you have to stay in the county. Mountains beckon, the seashore calls, but if you can't answer, you suffer for about thirty days.
Then, look out, the Peach Trees blossom.