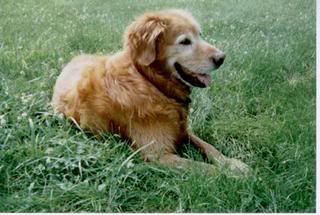 Griff
My dear old Griff was a constant companion from age seven months until he collapsed on his morning walk fourteen years later. Where I went, he went, motor boating, rowing, driving, walking.
When we were out he was partial to Whoppers and we would seek out Burger King while driving across country so he could have his Whopper. We would pull into the Burger King and I would order two Whoppers. When we would get to the window the server would ask, "Do you want ketchup with that?"
I would turn to Griff and ask, "Do you want ketchup?" Of course he would stare straight ahead. I would turn to the attendant and say, "One ketchup." Cracked me up every time and slightly amused Burger King employees across the country.
He would eat his Whopper completely before I could get mine unwrapped.