Up at three am - again. And I ask the same silly question. Am I "up early" or am I "up in the middle of the night"?
It doesn't matter, it is just a question of wording, and I am the only person here. I will probably argue with myself for a while, there is little else to do.
Sunday evening television is so boring that I go to bed early, and thence wake up early. I watched mostly cartoon shows...cartoons for adults: Simpsons, Family Guy, King of the Hill, and a couple of others whose names I do not even remember. (Oh, what has television become?)
I guess I am "up early" since I am fully dressed. I am wearing green, the only green article of clothing I have, a tee-shirt, for Saint Patrick's day. I laughed to myself that I didn't think Saint Patrick was even "up yet".
I'm glad we have made an icon of shamrocks and Jolly Green Giant, St. Patrick. It gives my daughter a chance to celebrate her Irish heritage. Her mom was descended from the O'Fallons, presumably from the Faralon Islands , and you can't be more Irish than that unless you can dance an actual jig.
Happy Shamrocks, everyone, and if you're not wearing green, May the whisky in your coffee be as smooth as an Irish lullaby, anyway.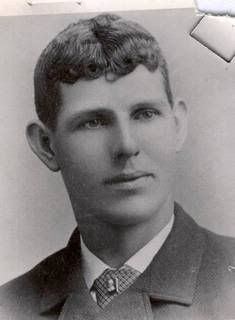 Daughter's Great-Grandfather O'Fallon
(Just because you can't be more Irish than he)