For the Photoshoot, we have our choice of subjects. I searched the Photobucket and chose my Albin cabin cruiser, because it brought me such pleasure when I lived at the marina.
I had it for several years and cruised in the Pacific many days. I stayed on the boat overnight only at the dock. I didn't trust my ability to safely anchor, but it made a nice spare bedroom when I had overnght guests. I stayed aboard and the guests stayed in the apartment.
My longest cruises were from Oxnard to Ventura, CA, a couple of hours away, and to the channel island Anacapa, and Santa Cruz That was really "out there" in the Pacific, several hours off the coast...directly toward Japan.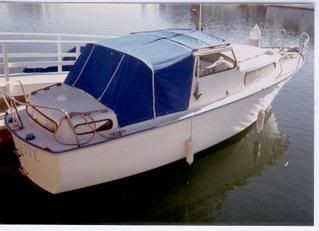 The Cruiser was called Sybarite. A sybarite is a lover of comfort and luxury. My dog Griff used to go with me until one time he got sea sick. After that he refused to get aboard, but would hide when we boarded. He was always waiting at the dock when we returned though.