It has been a while since I last showed you a picture of "our" rose bush. We followed its growth from twig to full blooming rose bush, then stopped.
Since then, the gardeners have trimmed all the rose bushes back when their blossoms dropped. That is the proper way to care for roses I am told. It makes possible a "second blooming" by permitting fresh buds to form. That is what is happening to our bush.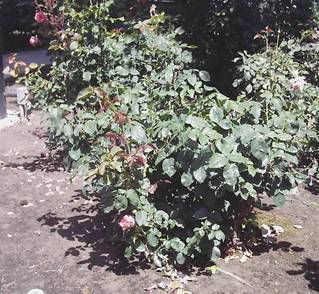 Here it is, with second growth buds forming, and one, see it down below, one tiny early blossom.
(In the background you can see some blossoms on a "late bloomer" which has not be cut back yet.)