A naked guy riding a bicycle. I see him every day. Who wouldn"t become fascinated?
We old folks play cards every evening. We use a "Bicycle" Rider Back deck of cards from U.S. Playing Card Company. (Well, two decks, one blue and nne red.) And there his is, stark naked, pedaling his way around our card table.
Seems no one notices but me, this daring young man on his wheels.
I began to wonder, who designed the back of this familiar card? Does he get royalties? Or was he just some unnamed employee of the company doing his job?
So I looked up the card company, and there our little streaker was, He has been riding the backs of playing cards since 1875, and still hasn't earned enough to pay for pair of Jockey Shorts. You gotta love him.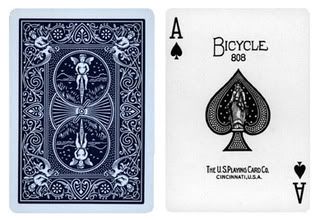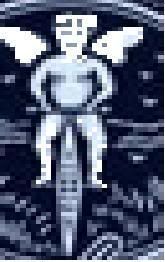 Detail