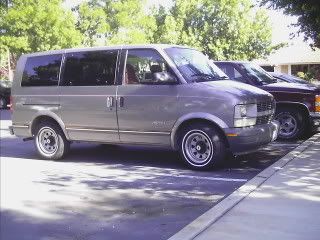 This is my most recent car: a 1995 Chevrolet Astro Van.
My love affair with automobiles started before I was old enough to drive one. As a kid I could name the make of every passing car.
I got my drivers' license on my sixteenth birthday, the very first day I was eligible.
I used to drive off road, just to get in tough spots and have to dig my way out or ingeniously get myself and my car home.
In WWII I trained to drive Jeeps, two and half ton trucks, half tracks, and even a tank.
I courted in a car.(Well, who didn't?)
I have owned a dozen or so different cars.
Yesterday I took my van out for a drive, the first time I have driven in many, many months. It was like I had rarely driven before. It was a delight... but it was scary. My reactions are slower and less sure. I had trouble seeing both the traffic and the instrument panel. I managed to get out and enjoy a rural dirt road for a bit. And I managed to get home.
I keep my van for sentimental reasons. I wonder how long I can afford to do that. I may have to say "Farewell" soon to my love.