John Scalzi in his blog By the Way challenges us to a photo task. Take a picture out our window and describe what we see.
Most of the responses so far show snow covered landscapes, but this is California. No snow. A sunny parking lot and a Starbucks. Isn't that what California is? Parking lots and Starbucks.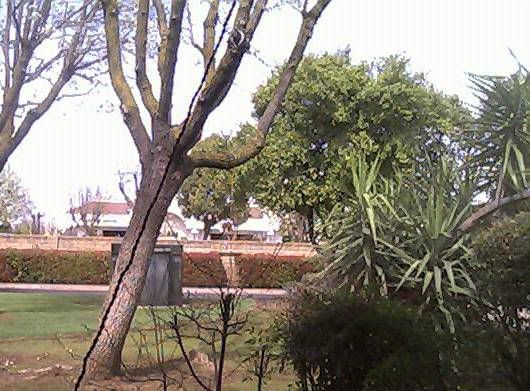 My snowless back yard in California with Starbuck Coffee Shop
The North wind has tipped the tree to the south-east where is stands next to palm trees and green lawn. The driveway between the lawn and the wall serves as an illegal short cut between a residential area and the throughofare. Beyond the wall is a parking lot, Starbucks, Quizno's Sandwich shop, a wireless Phone Company, and hidden by the palms, Mattressland.
It is nice to be within walking distance of a dozen fast food places, a bank, a medical center, a super-market, and a shopping mall.