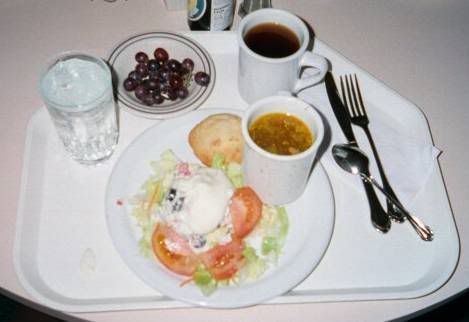 SUPPER TRAY
Monday's Photo Shoot assignment was "something that makes you hungry".
This was the start of a series that was just the opposite. It was going to be part of a series to present to the Senior Services Ombundsman that showed how the management was serving us meager, unattractive meals. This entree was called "Mexican Salad". It was sour cream on slices of tomato and leaves of lettuce with an olive or two stuck on top. It came with a cup of soup, coffee, grapes, and for dessert, one cookie. Well, it was meagre.
But the series was never finished and was never presented to the ombundman. Why? Because it looked too good.
It looked too good to be bad. Meals are a bit better now, but are still a souce of complaints to the ombundsman. But I don't botther to make a photo record of them anymore.
If this doesn't make you hungry, it didn't make us hungry either, but never made the hit parade of Starvation Diets.