Wouldn't you just LOVE a free trip to San Francisco, with accomodations with a view of the Golden Gate?
I am DREADING just such a trip.
The Veteran's Admiunistration's restoration clinic is in the VA hospital in San Francisco, and that is where they make artificial eyes for those of us who lost an eye in the service. The technician who makes them is an artist, perhaps the best in the business. He makes eyes and ears and whatever the veteran is missing. He used to make his creations for the movies, and they included monsters and animals. Only he doesn't make house calls. You have to go to him.
Last time I went, I drove myself. I started at five am and drove and drove, crossed the Bay Bridge, and GOT LOST in San Francisco. It was horrible. Now, years later, I rarely drive at all, and cannot drive myself to the city, and home.
The VA will hire a company to drive me, but we have to go the day before my appointment, I stay overnight at the VA hospital, see the specialist, stay overnight AGAIN, and then get driven home.
There is no sight seeing, no cable cars, no dining on Fisherman's Wharf, no drinks at the Top of the Mark Hopkins Hotel. It is two nights at the VA hospital. It has a view of the Golden Gate, true, from the OUTSIDE...that is, looking from the Pacific Ocean side into the bay. But once you have seen that, say ten minutes, the rest is waiting in a hospital.
And I am not sure I can wear a prosthesis anymore, I have gone without for over a year.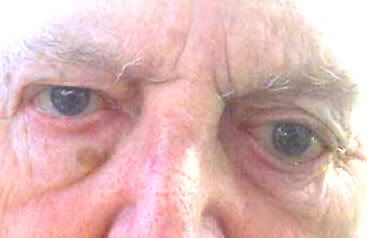 Chuck with new eye after last visit to San Francisco
And that is what has got me up, stewing, at four in the morning, days before my appointment. You would like a free trip, all expenses paid, to San Francisco?
Go in my place.