I have a reputation for "tinkering". For example, at the dinner table I noticed that the water glass was casting an image of the overhead lights on the place mat. So I took a pocket magnifier from my pocket to use as an eyepiece and using the water glass as an objective lens I made a telescope to peer across the dining room. It works but it is very strange to see me juggling water glass and magnifier to use it.
When I made the picture of the rose bud in the last entry in this journal, I was sorry it was out of focus. So I took a pair of reading glasses from the 99 cent store and held them in front of the camera lens. I took a practice shot of a nickel. Here it is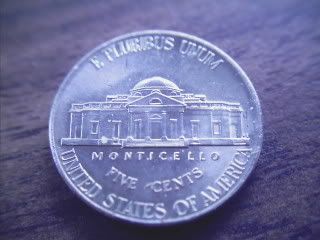 .
It worked... sort of. So I went back and took another shot of the rosebud. It was better than the last. But still leaves a lot to be desired.