My step-dad longed for a boat. He talked often about owning a boat. As a young man he had worked as a crewman on yacht. He worked in ship yard building boats. During WWII he joined the merchant marine and carried goods around the world.
After the war he stayed on land, became a finisH carpenter and the assistant to a contractor...but his heart was still at sea. He wanted a boat...but did not get one.
When I inherited his money. I GOT A BOAT.
I bought a twenty five foot Albin cabin cruiser with a little diesel engine that would cruise, full speed, at a merry six and half knots per hour. It took two hours to reach the channel islands. It took an hour to go to the nearest marina...from Oxnard to Ventura...six miles up the coast. I could have bicycled faster.
But leisure was my pleasure. I often motored out and anchored behind the breakwater, and just lolled in the sun and breeze. I watched other, bigger, fancier yachts go by. I joined the Power Squadron, a group of power boat owners. We did civic projects around the harbor and motor boated locally on weekends. We taught boating safety. There was always something to do.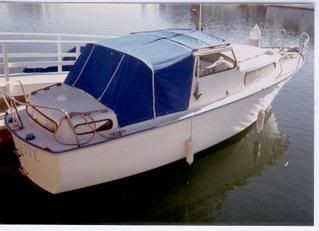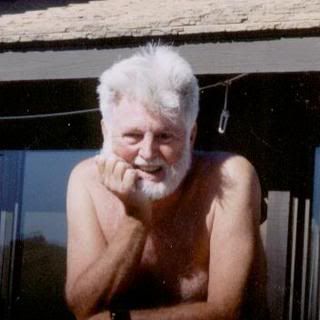 My Albin Cabin Cruiser Captain Chuck in 1990
At Christmas we decorated someone's boat and entered the Parade of Lights around the harbor. My apartment had a deck and dock and my boat was moored by my doorstep. I had only to step out my door, onto my boat and go on a merry cruise around the harbor. A typical cruise would be from my dock to the ocean, out to circle a freighter anchored waiting to enter Port Hueneme, back to a restaurant for breakfast, and then home.
The Sybarite made a neat guest bedroom. When overnight guest came to stay, I would give them my room and sleep on the boat, gently rocking in the main cabin. The Albin had an aft cabin, too, that could sleep one or two folks.
There was more to my fleet. I had a row boat with an outboard motor, and a two man sailboat. I was very nautical.