Things have calmed down since my last frenetic entry. I have located and talked to my Cousin Bertha. Yep, she was in a hospital and resting comfortably.
I was able to log into Photobucket and upload my two neat pictures. The first by a professional photographer Roger Wyan who took it as part of a documentary he is making about Hospice Patients. It went along with a long interview and I guess I did all right.. I only cried twice. It is a neat photo of me at my daily job... adding entries to my blog. He let me use it here. thanks Roger.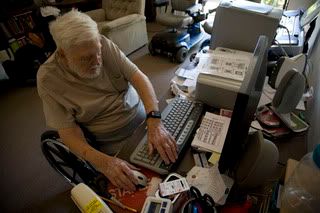 Copyright2008 Roger J. Wyan
And this homemade photo of me visiting with my great-grandson Evan. It was the first time I had seen him. He is four months old and as happy a baby as I have seen. He smiled at Great-grandfather, and that means a lot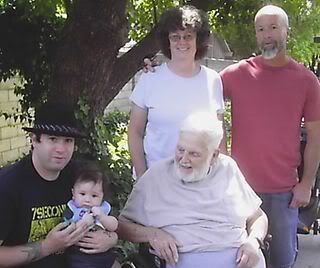 Shown are Evan, four months, his dad, Luke, his grandmother and grandfather Jo and Steve and me, Great-grandfather. I guess you can figure out who is who.