There are a hundred rose bushes in the garden of our Old Folks Home, and consequently, over a THOUSAND blossoms. I went out between rain showers and behold, of the thousand blossoms, the prettiest of all, was the one we pictured "growing up".
No kidding. The biggest, most gorgeous bloom in the garden is that poor little retarded rose bud that we tracked, and worried about. It gives a new meaning to the the term "late bloomer". This late bloomer is the grandest of all. The ugly duckling has become a swan.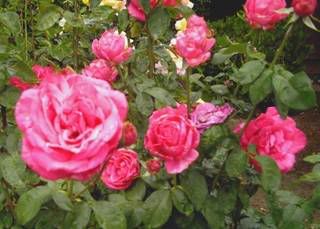 Remember how it struggled to bloom?