We have been following the life cycle of one particular rose blossom. We started with twig in the ground, followed it through sprouting, leafing, bushing, budding, and blossoming. Here is the end of the series. It is seen in lower left... wilted, and surrounded by new blossoms, now taking it's place.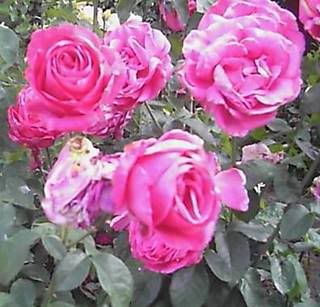 THE CYCLE
A twig February 24th (<link)
Beginning to sprout February 26 (<link)
A leaf appears March ` (<link)
Becomes a bush March 12 (<link)
Develops a rosebud March 21 (<link)
Bud struggles to open April 4 (<link)
Becomes blossom April 11 (<link)
Grandest blossom in the whole garden April 20 (<link)
and today, above, replaced by newer blossoms.