The jam was on the table, not hiding in the cupboard. A grapefruit sat as usual in front of Wilma's place. I put jam on my oatmeal, and then my toast. I did not have to go to the cupboard to get it out. I wish I had.
Wilma, I was told went to the hospital last night. I am not "family" so, I am sure, no one will tell me what is wrong. "That is private information."
We went and got our flu shots yesterday, and it was quite an adventure. Twenty of us, five of us in wheel chairs, strapped into the bus, and then wheeled into Costco, and lined up for flu shots. It was one of Wilma's rare excursions. At supper, Wilma took a bite, then left the table. She did not come and play in our usual "rummy" game. With Wilma and Burnie both absent, three of us played a bit, then quit early.
Life in the old folks home is transitory. People come and go. Someone in our "family" is always in the hospital. I, myself, was early this year. Yesterday they showed a film of one our activities taken just four years ago. Almost all of the residents in that film are no longer here. Four years ago I was walking around at the party. Viewers shouted, "Look, there's Chuck, walking around." They're used to seeing me in a wheel chair. I'm used to me in a wheel chair.
I'm used to seeing Wilma, in her wheel chair, across the breakfast table.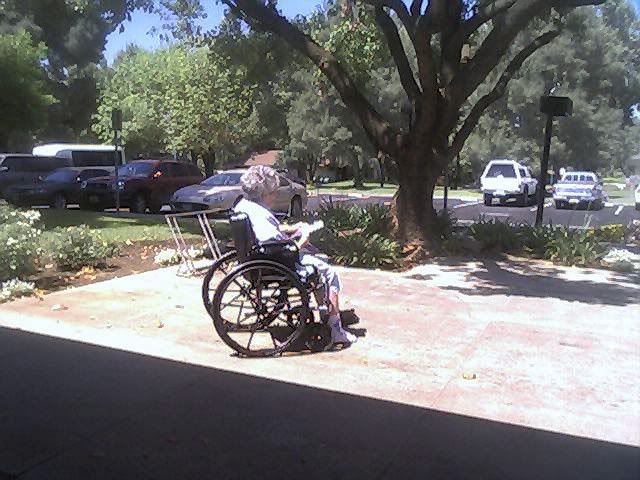 Wilma was raised in Holtville, CA, in desert. She'd rather sit in the sun than in the shade.