Right after WWII, cars were scarce and money was plentiful, prices were still cheap, and ex-GIs still had dreams to fulfill, so I bought a 1930 Packard Converttible I saw sitting on a street corner with a For Sale sign on it.
It was OLD, and it was forlorn. The top was long gone and it was hand painted blue. It should have looked like this factory picture, and perhaps once it did.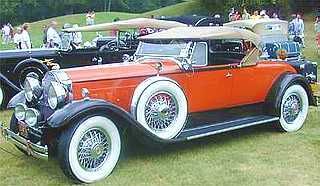 1930 Packard Convertible Runabout, as it looked new
But when I got it, it looked more like this doctored picture. And it smoked, like a chimney, it smoked.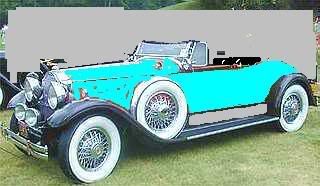 The way "The Old Bastard" looked by the time I bought it.
My buddy and I rode around it some, but we never took that cross-courntry trip GIs were all promising themselves to take. We didn't go far at ten miles per gallon of gas... or less.
We took matters into our own hands and with more chutzpah than know-how we replaced the piston rings. Somehow we got those pistons out of the car, fitted them with new rings, .040 thousandth oversize to compensate for the wear. And we got them back in the engine. It needed a re-bore, but we didn't bother. In fact a re-bore would have cost more than the Packard did.
One memorable moment was when my buddy asked, "what's under this cover plate?" It was a cover plate that did not seem to be part of necessary openings. In the spirit of experimentation he removed it, and found only a HOLE in the crankcase.
"Hah," he shouted, "The old bastard threw a rod."
That must have been one tremendous clatter. Seven giant pistons pounding away and one loose rod poking it's way through the crankcase.
We put the cover plate back over the hole, put the pistons back in the engine, and fired the behemoth up. What do you know... it ran. But it smoked as badly as it did before. Alas.
LaterI sold the Old Bastard to two other guys for $100 payable at $20 a month. I am still owed $40 on the deal. I wonder where those guys went and where the car ended up. Sixty years later, I still have the pink slip. Let's see: $40 compounded over sixty years...is...ah...never mind.