Take Your Camera. It was a slogan I made up the other day when I went without it. So today it was T Y C day.
It was three out of four out of focus today, but at least I had the camera when I saw things I wanted to picture.
On a shopping trip I finally got to picture that ugly oleander hedge which turned into a giant bouquet.(1) That is the one that is in focus.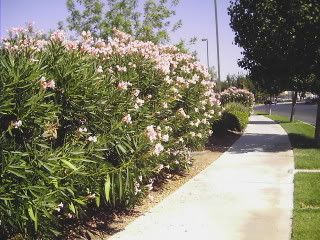 A bit farther on I saw a giant car. Don't know what this great big urban limo was doing in our up-state city, but I got 90% of it in this picture (2).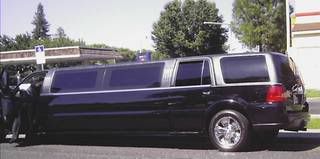 The next two out of focus gems merely prove you should take your camera, and that you should practice with it enough so you can get pictures in focus/ Breakfast looked appealing this morning, with biscuits and gravy and fixins and I snapped its portrait. (3)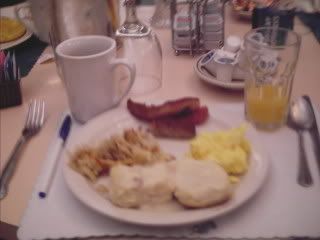 And tablemate, Thelma, age 93, spends her time crotcheting baby layettes for her church to give newborns. Here she shows us her handiwork. (4)