Saturday has been interesting. It was a Big, Little, Good, Bad Day
I like to show cars in our parking lot from time to time. This one was a shocker. It was parked in our lot with a sign saying For Sale, $20,000. So here is a big bargain for you...if you need a limo. I wonder if they have put it on Ebay?
BIG
While I was rummaging through the pockets of my power chair, I found a harmonica that I had thought I had lost. It is the smallest one in my collection. It is a fraction of an inch long, but I can actually play tunes on the little four-hole mini. It is called an Oskamonica. Lee Oskar is a well known harmonica maker. This must be his smallest. I put a full sized harmonica in the picture too, as well as a police whistle, a dime and quarter, for size comparison
LITTLE
Valerie Fisher wrote to tell me that I had been co-winner of this week's sentence writing contest. (<-link) My sentence, made up of words starting with the letters D C N S T R is below.
Deftly create new sentences to read
GOOD
Alas, my power chair stranded me in hall the other day. I had to get a push home from a care giver. It was a bitr humiliating. I had to sit in the hall until help happened along. Then I had to phone SCOOTERMAN to come all the way from Fresno, CA, to restore it. Diagnosis: new batteries needed. Here s the chair, in disassembled state awaiting batteries. What's so bad about that? The cost... yikes., with the service call...nearly three hundred dollars.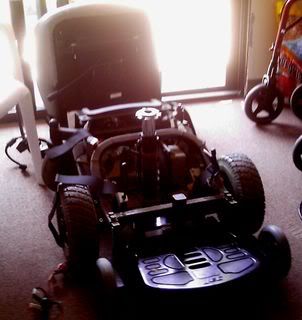 BAD