Herewith, another one of my "paint" projects, just because I have nothing to write about at this moment.
We all get a Paint program with our computers, but many of us never open it nor play with it. I use mine all the time to doodle in color. My hard drive is filled with my drawings
.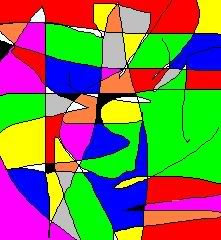 It is called Ersatz. It is completely abstract and does not represent anything.
I am thinking of taking my lap top with me to art class and trying to reproduce the art projects on the screen. My art teacher encourages me to do so, but maybe it is because she is my daughter
If I were going to do this again, I would use the "curved line" tool, and have the lines all emmanate from some "vanishing points". That would give the design some depth and composition. Also they would bleed off the page at some points.
Well, live and learn, stay tuned.