You may wonder how my design below, led to the one below it.
This is the design in Paint that I showed the other day.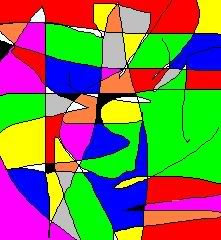 And here is the comment I made about it...
If I were going to do this again, I would use the "curved line" tool, and have the lines all emmanate from some "vanishing points". That would give the design some depth and composition. Also they would bleed off the page at some points.
That is what I did. And this was the result.
Unbeliveable?
And...it is still a work in progress.